| | |
| --- | --- |
| | PRESENTATION OF CHESS SETS TO GWAELOD, PENTYRCH & CREIGIAU PRIMARY SCHOOLS |
| | |
| | |
| | |
| | |
| | |
Chess sets for local schools

Pentyrch Chess Club has donated 5 chess sets and boards to each of the primary schools in the community - Pentyrch; Creigiau; and Gwaelod y Garth. This has been made possible by the modest but very much appreciated grants from the Pentyrch Open Gardens Group (for Pentyrch) and the Welsh Chess Union (for Creigiau and Gwaelod y Garth). The Headteachers and pupils of all three schools were very grateful recipients of the sets.

The Club was delighted to be able to pilot this approach in Wales as a means of stimulating interest among junior schoolchildren in playing chess. The pictures show the enthusiasm with which the sets were received at the schools. We were extremely pleased to learn that a chess club is already active in Creigiau Primary School, thanks to the initiative of Mr Phillip Ivins. Two pupils from the school had recently taken part in a Welsh Chess Union junior competition in Cardiff.

If the donated sets help to generate enthusiasm for chess in the schools, further visits may be arranged to teach pupils more about the game and give them a chance to play against (and, who knows, beat) experienced players from the Club. Perhaps in the longer run, all three schools might link up to extend opportunities for their pupils to play chess.

Pentyrch Chess Club, which currently has teams in the second and third divisions of the East Glamorgan Chess League, can be contacted via the secretary, Mr Vivian Martin (tel 029 2089 1402). The Club's website address is www.pentyrchchess.co.uk .
Gwaelod
Mr Iwan Ellis, Headteacher, staff and pupils at Gwaelod y Garth Primary School (with Pentyrch Chess Club 1st team captain, Professor Mike Maguire)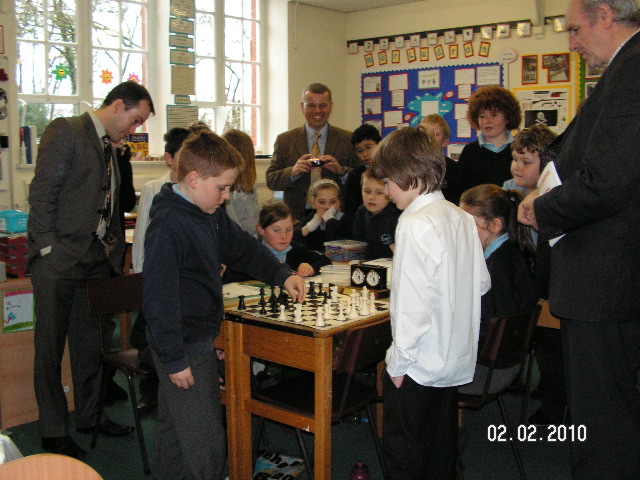 Pentyrch
Mrs Sally Phillips, Deputy Headteacher and pupils at Pentyrch Primary School (with Pentyrch Chess Club member, Matthew Lunnon)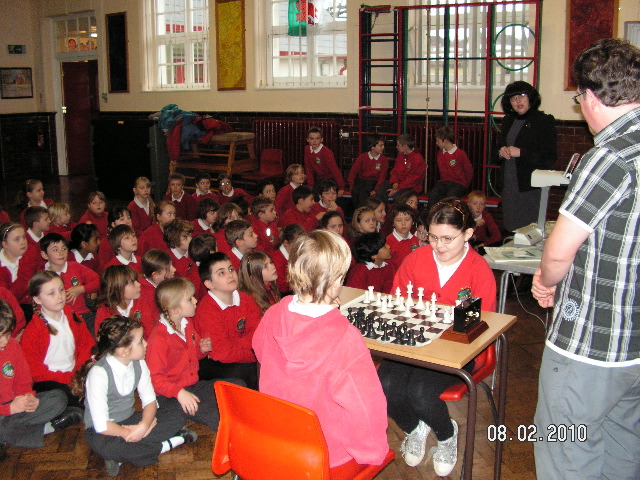 Creigiau
Creigiau Primary School (with Pentyrch Chess Club 1st team captain, Professor Mike Maguire)