Monthmouthshire Chess Association
South Wales Argus Article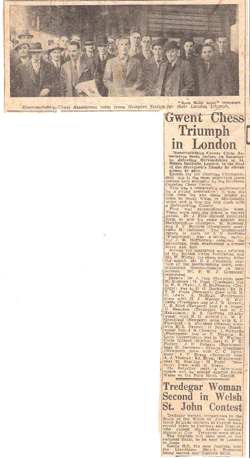 Monmouthshire Chess Association team leave Newport station for their London triumph. Monmouthshire Comity Chess Association made history on Saturday by defeating Hertfordshire at St. Brides Institute, London in the final of the Stevenson's Trophy by eleven games to nine. - except for the Counties Championship this is the most important chess contest held annually by the Southern Counties Chess Union.
This was a remarkable performance by a young association : it was the first time for any chess trophy to come to South Wales or Monmouthshire, and it was the first clash with a Metropolitan County.
Play was extraordinarily keen. There were only six draws in twenty games. Dr J Fine showed excellent form to win his game against the Hertfordshire champion M. Rumney, and J. It Roberts (Pontypool) overcame Jacobsen. The triumphant return to form of A. S Griffiths (Blackwood) was- a telling factor, but J. B. McPherson obtained the advantage, then overlooked a simple move and lost.
Among the spectators were officials of the British Chess Federation and Mr, W. Winter, the chess master. After the match Mr. E . J Fairchild, captain of the Hertfordshire team, congratulated Monmouthshire on their success. Mr J. W. F. Greenleaf responded.
Details:
Dr J. Fine (Newport) beat M. Rumney; H. Pugh (Tredegar) lost to W. E Pryer; J. B. McPherson (Tredegar) lost to D G Durham; Dr. H. V. M Jones (WNewport) drew with H. C. Lewis; E. IVIcHugh (Pontypool) drew with H J . Warren; W. Williams (Tredegar) lost to J. W Dicker; C. B. Eliot (Newport) beat J. A Jepps; D. Reardon (Tredegar) lost to J. Hakansson; A S. Griffiths (Blackwood) beat H. G. Arnold ; J. W F. Greenleaf (Newport) drew with E. J. Fairchild; A Williams (Blaina) drew with H. E Palmer; D. Price (Blackwood) beat J. R. Cheshire; I. Richards (Pontypool) lost to P. Shapira; E. Long (Abertillerv) lost to W Walker; Colin Gilbert (Blaina) beat G. F H. Packer; J. H Roberts (Pontypool) beat H. Jacobsen; Francis Greenleaf (Newport) drew with C. C Jainsbury). J. T Evan (Newport) beat A. J. Thomas; Ed. Evans (Blackwood) beat W Starling; M Pedel (Chepstow) drew with H Green.
On Saturday next, a fifty-board match will be played against South Wales at the Park Hotel, Cardiff.